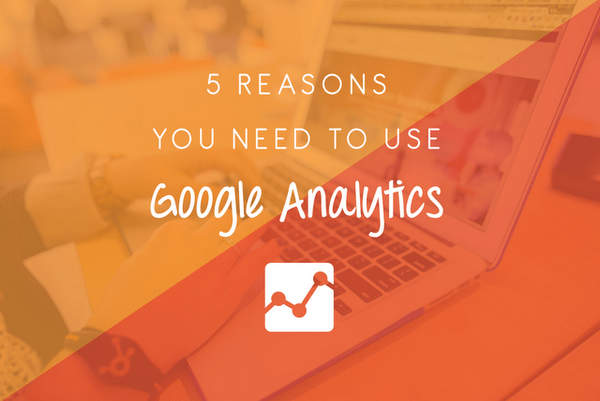 5 Reasons You NEED To Use Google Analytics
5 Reasons You NEED To Use Google Analytics
Google Analytics is a website analytics service that gathers a vast amount of data regarding traffic and audience behaviour on a particular website. It is an excellent tool for monitoring and measuring the performance and presence of a website, and can help to recognise online areas that need to be improved. With a great degree of benefits, it's no surprise that Google Analytics is the most widely used web analytics service on the Internet.
So are you considering setting up an account for your website? You should!
Here are 5 reasons why you need to use Google Analytics!
IT'S FREE AND EASY TO USE
That means there is no excuse not to be using Google Analytics! It's super easy to set up your account – it's as simple as clicking the Create Account button and pasting a code onto your website. Once your account is set up, you'll find that it has an easy to navigate interface, so you will have a lot of information about your website right at your fingertips.
HELPS TO UNDERSTAND AUDIENCE BEHAVIOUR
The most important aspect of online marketing is to understand your audience and their behaviour. Google Analytics provides you with a variety of detailed information about your website traffic and shows you trends in audience behaviour. From who visits your website (based on geographic location, language, demographics), to what they do on your website (how long they spend on it, the most visited pages, average page views per session), to when they visit your website (time and day, returning visitors) – Google Analytics shares it all with you!
When you invest a bunge of money to create a new website for auto dealer, the last thing you want is not to be able to understand and know who are your target customers.
Monitoring and having an insight into the characteristics of your audience allows you to target a specific niche audience who may want to purchase your products. Therefore, you can effectively make adjustments to your website and content to gain greater online visibility for your business based on your specific target market.
YOU CAN EVALUATE YOUR TRAFFIC FLOW
Google Analytics can track the source of where and how your visitors are arriving to your website – whether it be from search engines, referrals, direct or campaigns. By knowing and evaluating where your main form of traffic flow comes from, you are able to focus on these sources and utilise them to your advantage.
TRACK THE SUCCESS OF CAMPAIGNS
Google Analytics provides a handy and trustworthy way to track campaigns, including email marketing, AdWords, social media, content and affiliate marketing. At a glance, you are able to see if your campaigns are working as well as the results of a completed campaign. With its powerful real-time monitoring, you are able to see if your active campaigns are running effectively and make immediate adjustments to make them more successful at attract more customers and sales.
Furthermore, you are able to set up your own goals within Google Analytics to evaluate the success of your website in achieving your business objectives. It's a simple option to set up and you can continually track them in Google Analytics to see how beneficial your website is for your business and whether you need to make any improvements to it.
Read more
PROVIDES A BUNCH OF OTHER OPTIONS
Google Analytics has an endless amount of options and features available to give you the very best insight into optimising your website to its full potential. As mentioned above, you can set up your business goals for your website and track your conversions. Some other features include – connecting to Google AdWords, connecting to Webmaster Tools, creating your own customisable reports straight to your email, analyst of ecommerce data, advanced visitor segmentation, and the list goes on.
So what's stopping you? Sign up for a Google Analytics account today and notice the difference in your website tactics today!
Want the Insider's Guide to growing your social media? Sign up for our newsletter here.